The NEPCON ASIA 2020 was successfully held in Shenzhen Convention and Exhibition Center from August 26th to 28th. As one of the exhibitors, 3CEMS Group made an amazing appearance in the exhibition.
In this exhibition, 3EMS Group showed the company's manufacturing products in industrial, maritime, automotive, smart wear, smart home and other fields, including spectrum analyzer, ship dynamic positioning system, oil & gas floating system, ultrasonic fishfinder, automotive cluster, AR glasses, wireless thermostat for smart buildings, and gaming motherboard. These products let visitors to the booth have a more intuitive understanding of our outstanding manufacturing technology in SMT and PCBA as well as the vigoroso production capacity behind it.
The high-end members of Shenzhen IoT Association visited 3CEMS Group's booth and expressed strong interests in our manufacturing capacity and wide range of industries field.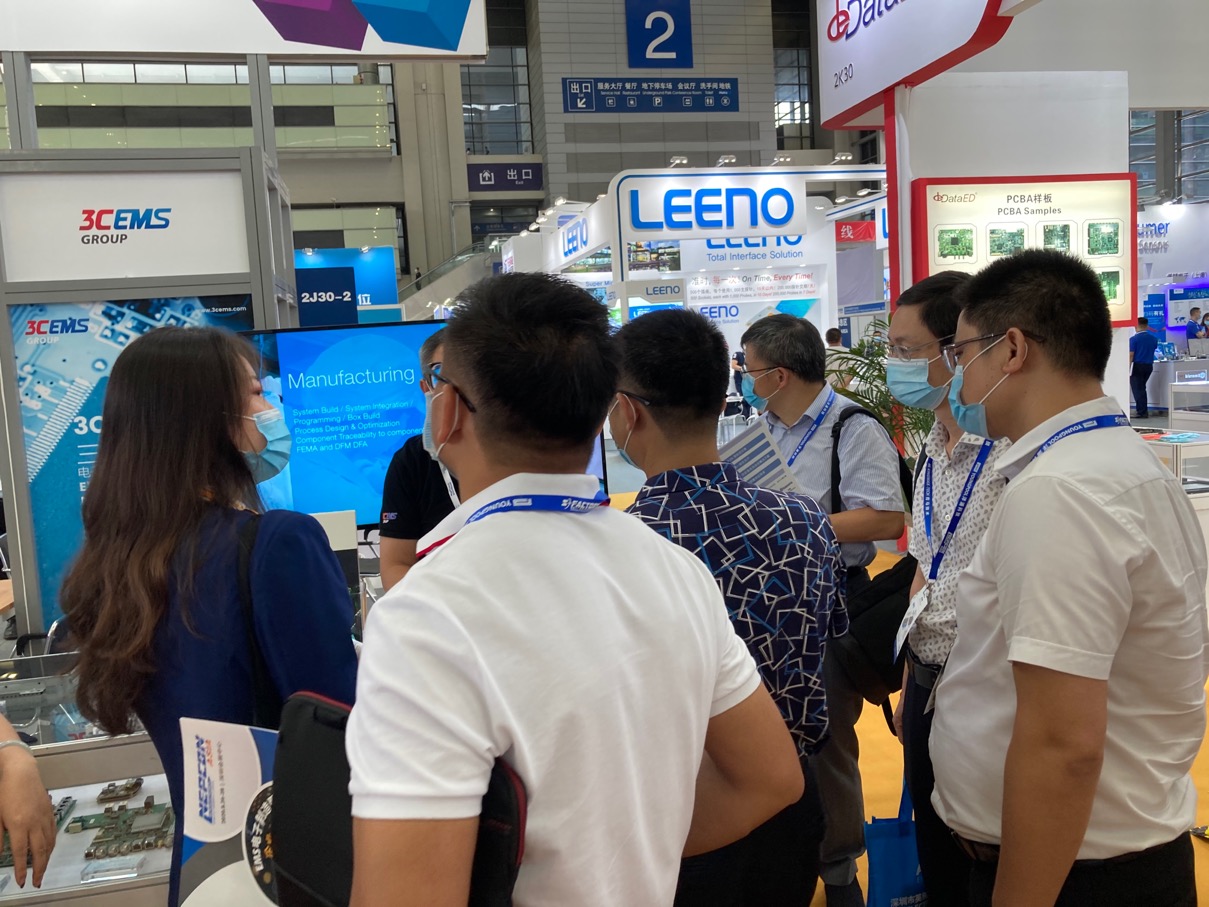 This year NEPCON ASIA was the first time for the organizers to set up "EMS Exhibition Area" to create an exclusive platform for the Electronic Manufacturing Service industry. As a well-known enterprise in the industry, 3CEMS Group is the most famous for its long history, advanced manufacturing equipment and wide range of industries field. Therefore, we have become the highlight and hot spot of EMS exhibition area, attracting many people to stop and consult.
After having a preliminary understanding of our company, some visitors believed in our capability and strength, and showed their R&D plans on the spot, described their demands on design and manufacturing, hoping to have more cooperation with us in the future.
As one of the earliest Taiwanese enterprises of returning to work in Guangzhou, Ian Tang, Vice President of 3CEMS Group Prime Base Technology, was interviewed by CCTV's "the Rise of China" TV program during the exhibition. He talked about the key position of Made in China in the global industrial chain and the unique value of 3CEMS Group in the electronic manufacturing service industry chain. As for the crisis and challenge brought by the epidemic, and how to coexist with the new epidemic situation for a long time in the future, Ian Tang said that the company has put forward the corresponding strategic planning.
2020 NEPCON ASIA has finished successfully. Looking back on the three days, we have gained recognition and appreciation from all parties. We also had in-depth exchanges and discussions with people inside and outside the EMS industry, including engineers, buyers, sales, etc. Although the COVID-19 has always required us keeping at a certain social distance, our enthusiasm and expectation for the electronic manufacturing service industry has enabled us to have a more pleasant face-to-face communication in on-site exhibition after over half a year.
Finally, let's look forward to the NEPCON ASIA in 2021!
About NEPCON ASIA
NEPCON ASIA is a recognized electronic manufacturing professional exhibition in South China. It focuses on the new technologies and products of printed circuit board, circuit board assembly, automatic assembly and testing, and focuses on digital manufacturing, lean production, product reliability and other topics around the core needs of the electronic manufacturing industry, providing solutions for the whole industry chain of the electronic industry.